Testimonials
Finn
December 2018
Finn is an absolute joy and I fall more in love with him every time I look at his sweet little face. Thank you so much for allowing us to have him. The younger picture is of he and our other Berner Charlie when we first got Finn.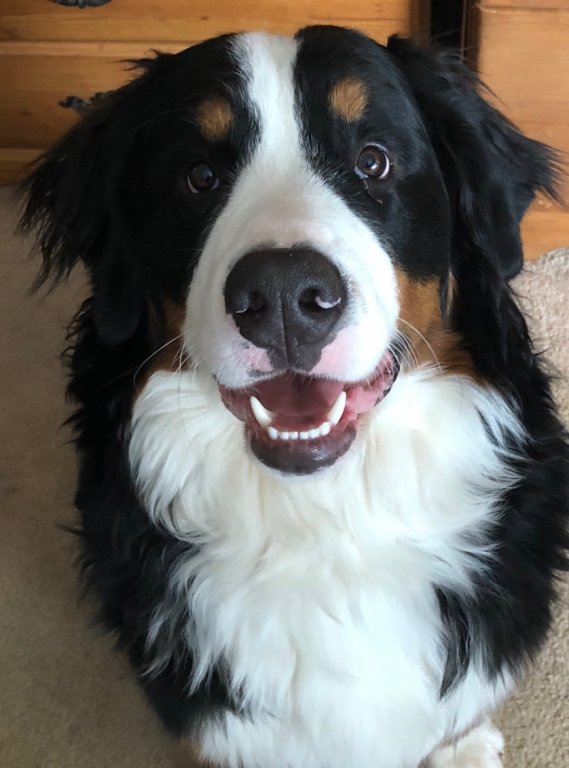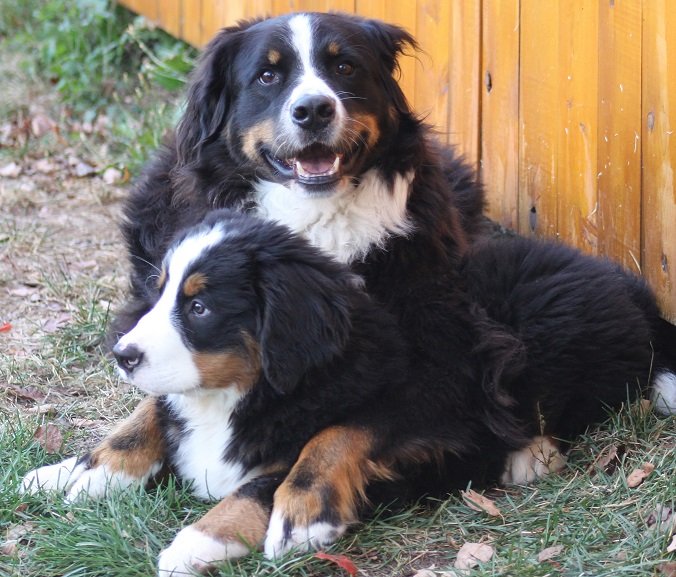 Marley
November 2018
I just thought you might want an update on Marley.
Marley is much loved and admired in the neighbourhood. While he has grown up, he still has the puppy in him and will run up (if allowed) and come to a dead stop and sit. He never jumps on anyone. He's a charmer and a suck.
He loves attention.
He's doing very well and other than the occasional "I'm here bark" he never barks (unless the door bell rings).
He's full of life in the good way and a good dog. We love him very much.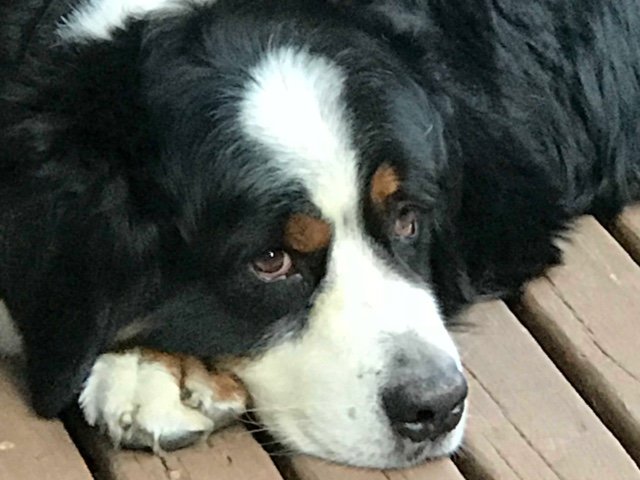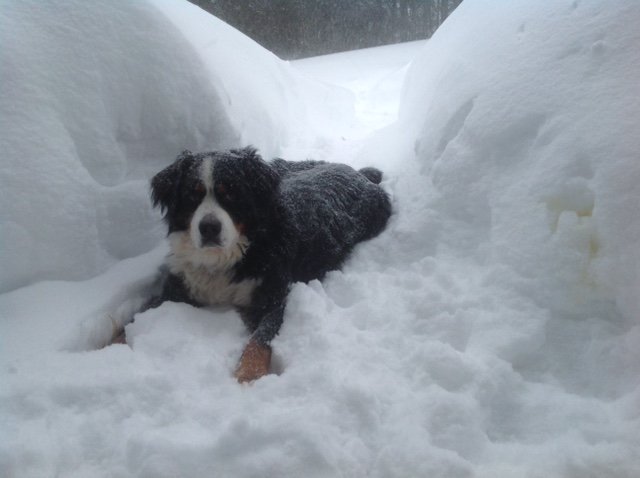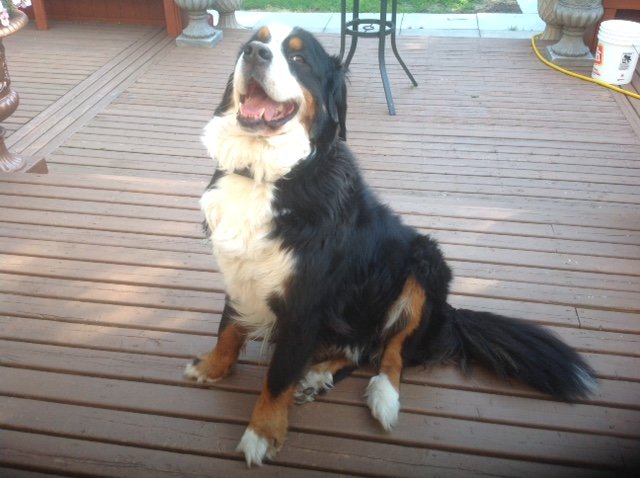 Luna & Aggie
April 2018

Just wanted to pop you a quick email to let you know Luna and Aggie are doing well. They both love the kitten and he loves them. We had them to the kids' school on Monday and they were so well behaved. No barking, no nipping and no accidents! They are also growing like crazy.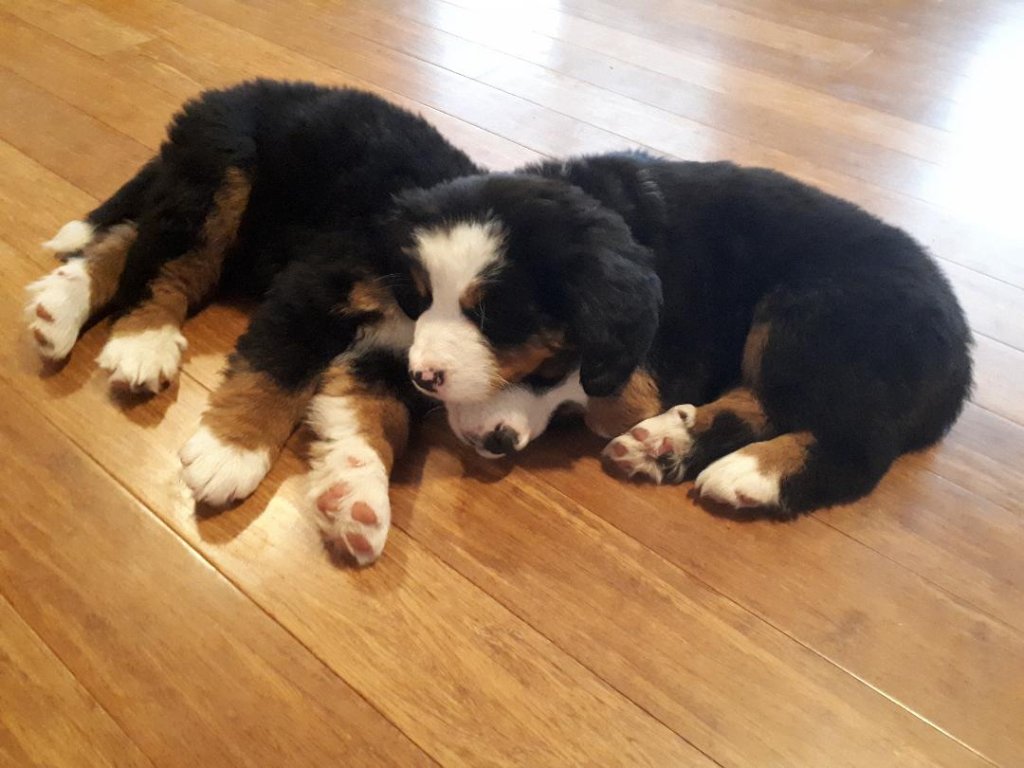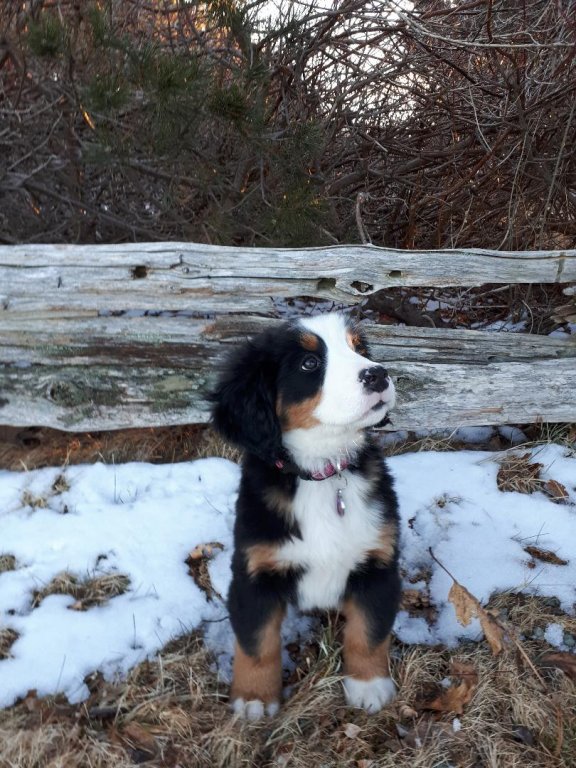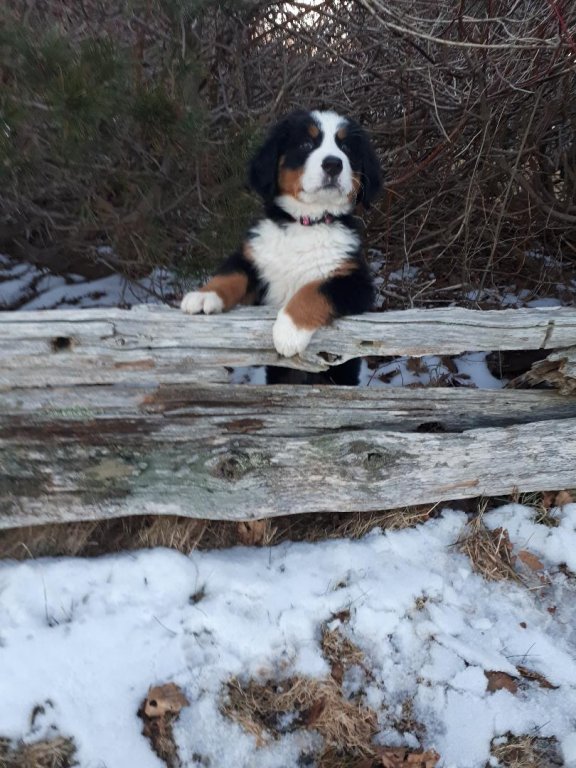 Olaf
September 2017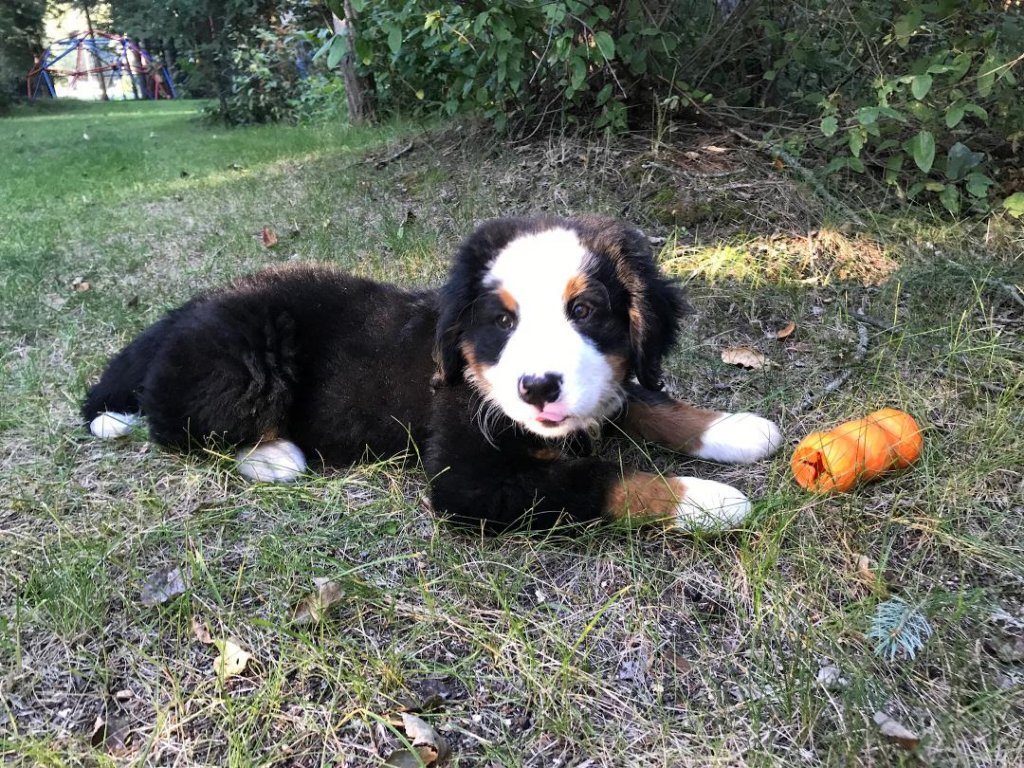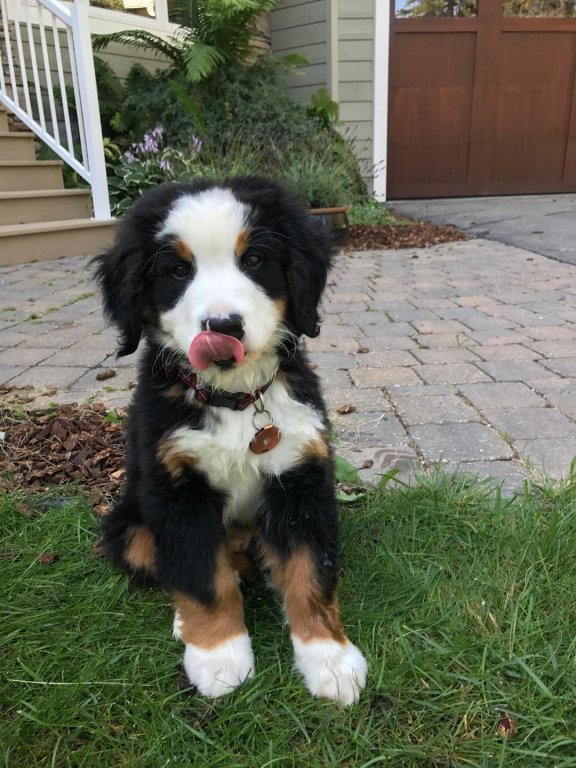 Finnegan
February 2017
I was fortunate enough to get one of your puppies from the December 3rd litter of 2015. Just wanted to let you know that our boy Finn has been nothing but a pleasure to have around. He is the absolute best companion we could have ever asked for.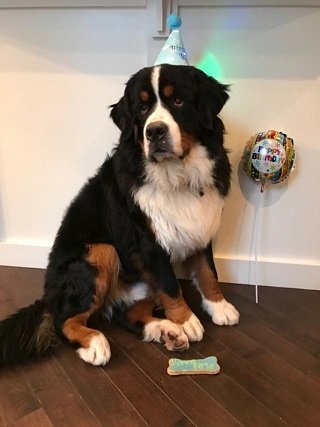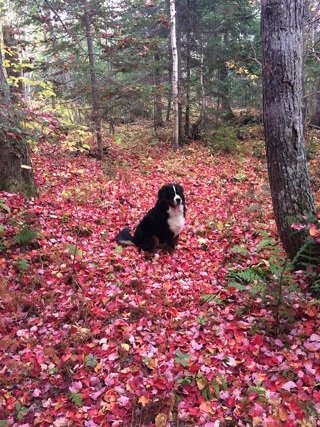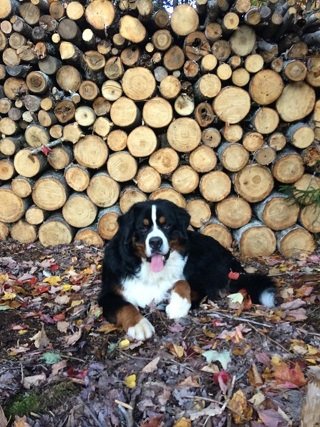 Maddie
August 2016
Check out our majestic little lady Maddie on the dock at the cottage before sunrise this morning.
Rex Bond
April 2016
Rex has been a fantastic puppy! He is food motivated which makes him easier to train and he has a favorite toy which he loves to retrieve. He likes swimming and playing fetch but we discovered yesterday that he doesn't like seaweed. He will try to walk around it and if we throw his toy/stick into the seaweed then he just whines for it. Yesterday we were playing fetch and I accidentally threw a stick in the seaweed. He whined for a bit and then searched for another stick on the beach to bring back to me. He loves being outdoors! We trained him as a puppy to ring a bell when he needed to go outside and he is constantly ringing it just so he can go lay down by the front door (we are soon thinking the bell needs to come down...).
He has a very friendly personality and loves everyone he sees. The vet says he is "perfect" and when we are not going to be home all day we will take him to a "doggy daycare" to be socialized. They are constantly asking where we got him because of his personality. He is not scared of other dogs and picks the grumpiest dogs around to go sleep beside and try to be friends with.
At home, he likes sitting on the picnic table so he can watch over the field (not a habit we enjoy but its an old picnic table so we let him). He isn't the best on a leash, but off leash he will come when called...for the most part. He has never been allowed on the furniture but he likes to think he is a lap dog so if you start to pet him he will slowly start putting his front paws on you to cuddle.
He has been a fantastic puppy so far, and as our first Bernese, he has made us fall completely in love with the breed!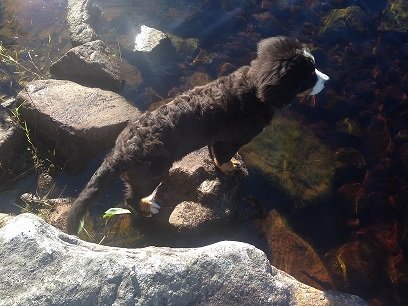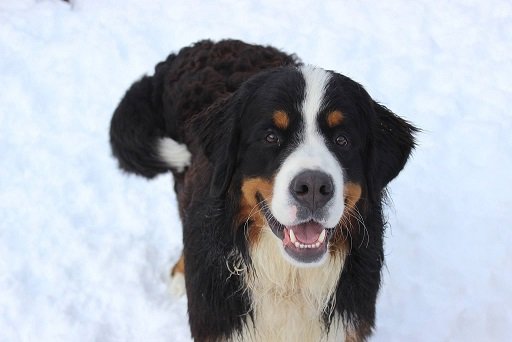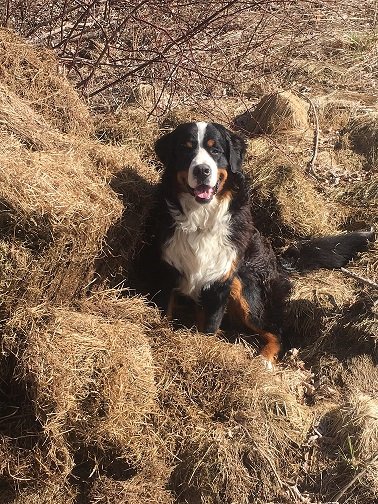 Greta
October 2016
It is with a very heavy heart that I have to give you this news, but I thought you would like to know that we had to say goody bye to our beloved Greta who we got from you almost 12 years ago. Her parents were:
Sire: Winterthur's Smooth Sailing
Dam: Oakfarm's Magic Raine
She was from a litter of 7, born on October 25, 2004 and also the first dog I had ever had. I could not have asked for a better dog. She was our second child and became my son's best friend as soon as we brought her home. He was four years old at the time and she adored him as much as he adored her. She always had to be near one of us and, in her own special way, 'talked' to us when she wanted something or felt we were not paying enough attention to her. J
Greta lived a very healthy life – with no issues in her almost 12 years. It was old age that took her from us and our veterinarian could not believe how she managed to live for so long without any health issues. I have many Berner friends who wondered the same and we were so lucky to have Greta as long as we did. I just wanted to say thank you for breeding such wonderful and healthy dogs. Although my heart aches for her, I know that she lived a long, happy and fulfilling life.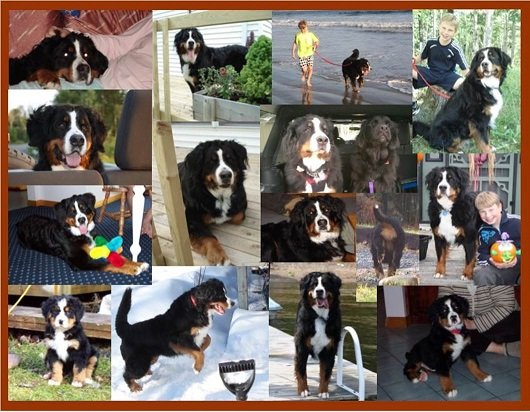 October 2015
11 years ago, you contacted my family to let us know that you had a Berner puppy for us. This was such a happy day and as soon as we were able to take her home we began to build memories with her. I thought you would like to know that Greta has grown into a beautiful dog. She knows what she wants, when she wants it and also how to tell us. Surprisingly, she does not like water, but loves the snow. She prances wherever she goes and she is loved by everyone who meets her. She's our second child and our protector. We cherish each and every day we have with her. I just wanted you to know that she is still with us and is well.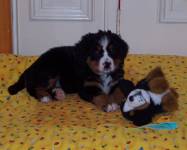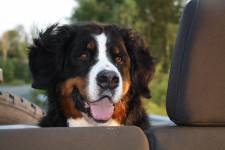 Bobi and Piper
February 2015
We just love both of them - thank you so much!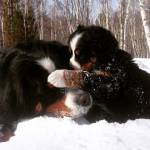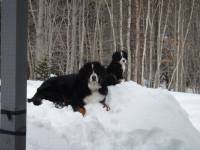 Molly Magic
December 2014 - 11 years old
I'm not sure if you remember, but about 11 years ago we bought a Bernese from you named Molly Magic. Her dad's name was Oscar I think. I was the little girl who was trying to decide between the "big one" and the "small one" and I ended up choosing the big one.
Anyway, yesterday was her birthday and she turned eleven. She is still healthy, spunky, playful and people still look at her and refer to her as a puppy!
I just wanted to thank you again for giving us the opportunity to get Molly; she is the pride and joy of our days for sure! I thought you might like to know that she's made it to eleven.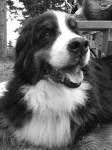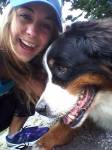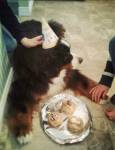 Dexter and Willow
October 2014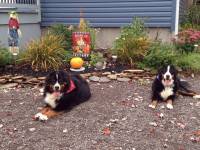 Timber
September 2014
We are so enjoying Timber. He is so mannerly and just a pleasure to have around. He loves to be cuddled, which he gets a lot of in this house. Had him to the Vet for shots on Tuesday and she commented twice on how well he handled himself was so obedient.....The best Bernese puppy she's ever seen. We felt good leaving there that day!!!! We get so many comments from people on how well behaved he is, when people visit, or out in public.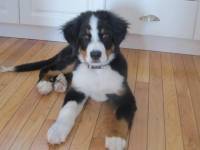 Tonka Toy
September 2014
I had my boy for his second set of vaccines, she said everything looked great and he weighs 34 pounds. He's still going outside to the bathroom, so amazed he has done this from day one! We love him so much, he's so smart and has tons of personality, he has me smiling every day!!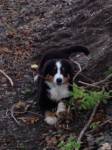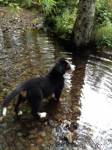 Aspen
March 2014 - 9 weeks old
He's growing so much! He is really smart boy he sits, comes and lays down on command. He's already house trained and doing really really good. He loves playing with my parents' lab :)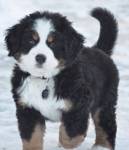 September 2014 - 7 1/2 months old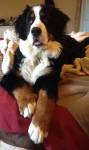 March 2015 - 14 months

He's a big, rugged boy now.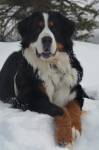 Molly
March 2014 - 11 weeks old
I just wanted to take a minute and send you a message to say thank you for giving us the "best puppy ever" we love her to pieces.... She is so precious! She fits right in, she is almost house trained, very comfortable in her crate during the day, and we just LOVE spending time with her :)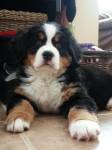 Henry
December 2013
Henry is so big now, and is such a good dog. We love him to death, and have never had a dog that stayed so close to home. Never wanders. Can't believe he is almost a year old! He has a little sister that he adores.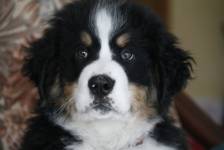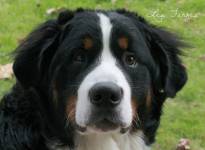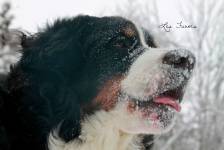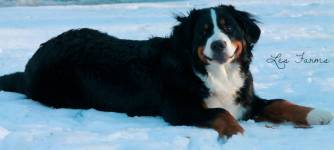 Lexie
November 2013
Lexie is now 2 years old, she is a big girl now. She is doing very good, we find that this year she was more calmer and she listens well, she stays around the house and never leaves our side. A few months ago, I had sent her picture to Times and Transcript 2014 calendar contest and I found out today that she got picked. Not sure if you've seen today's paper, there is a calendar and she is in for the month of January. We were pretty excited
Mike bought a small fishing boat towards the end of this summer and of course we brought Lexie on it. Well, well, talk about a happy dog, she had a ball.
"A tribute to Tux"
Fresh snow in the yard over night,
but there will be no fresh dog tracks this morning,
that lead to all the important spots.
No cold nose wanting to share my breakfast
no barks demanding an adventurous walk.
Twelve years of unquestioning loyalty
Twelve years of unconditional love and duty.
It is an enormous debt I have to repay,
to a dog named Tux.
And all he wanted to know is would I be alright
if he had to go.
I said yes, you go now, I will be fine.
You rest, find Panda now and run with her
in alpine meadows, on the snowy mountains.
Marshall
October 2013
I just had to let you know how great Marshall is!!
We have had another super weekend doing stuff and I want to say "Thanks" to Beverley and Larry for all that you have done before Scott and I got to your kennel. I think people often forget what a breeder does prior to adoption. You have been a great source of info to me as well. He is a great little man, finding his way at my house, and being loved so much!